HONG KONG IN THE TOP 10 AT MR GAY WORLD 2012!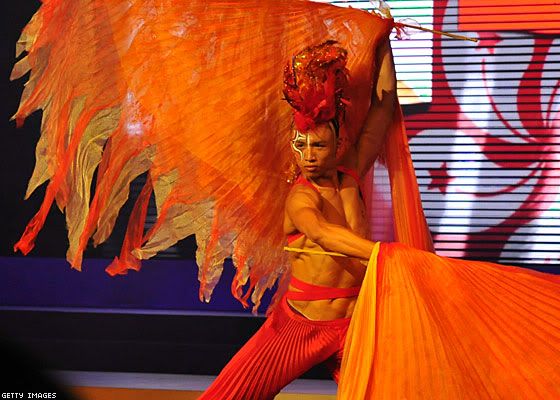 Mr Gay Hong Kong Jimmy Wong in his National Costume designed by Andrew Chueng for Mr Gay World, as featured in Advocate.com
JOHANNESBURG, SOUTH AFRICA. Mr Gay Hong Kong 2011 Jimmy Wong sustained Hong Kong's respectable showing at Mr Gay World, placing 7th overall amongst 22 participationg countries and territories.
Hong Kong was also part of the team (together with Netherlands, Mexico, Ethiopia and Bulgaria) that won the Team Sports Challenge. New Zealand won the individual challenge.
Mr Gay Hong 2009 Rick Twombley collected a slew of special awards and was proclaimed 2nd Runner Up in Mr Gay World 2010 in Oslo, Norway. Mr Gay Hong Kong 2010 Heihei Yau received a special citation at Mr Gay World 2010 in Manila, the Philippines, from one of the organizatons' corporate sponsors.
The 2012 competition culminated in a glittering Grand Finale on 8 April, Sunday, at the The Lyric Theatre, Gold Reef City.
In the Top 10 Question and Answer, Jimmy was asked:
"If you could invite anybody to join next year's panel of judges at Mr Gay World, who would it be, and why?"
He answered:
"I would invite UN Secretary General Ban Ki Moon. During a round table discussion in New York, UN Secretary General Ban Ki Moon affirmed that homophobic bullying of young people constitutes a "grave violation of human rights," and urged States to take the necessary measures to protect their citizens from violence and discrimination on the grounds of sexual orientation and gender identity. The Honourable U.N. Secretary General Ban Ki Moon is an ally of the LGBT community."
Here are the FULL RESULTS of Mr Gay World 2012:
Mr Gay World 2012
New Zealand
1st Runner Up
South Africa
2nd Runner Up
France
3rd Runner Up
USA
4th Runner Up
Netherlands
Top 10
Canada
Hong Kong
Czech Republic
Philippines
Australia
Awards
National Costume
Philippines
People's Choice
Philippines
Swimwear
New Zealand
Formal Wear
Netherlands
Photogenic
Argentina
Outreach
Czech Republic
Spread The Love, Share This!
Comments
There are no comments on this entry.
Trackbacks
There are no trackbacks on this entry.