關於我們 About
ABOUT MR GAY HONG KONG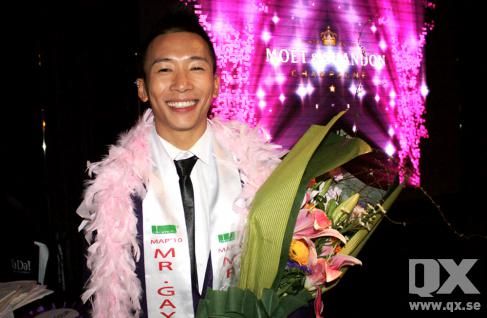 「香港同志先生」—一個比選美更加豐富的比賽,由 Man Asia Productions 於二零零九年成立。評判團除了會對參賽者進行外在美評審外, 還針對參加者的個性及形象進行選拔。勝出者將以香港同志界代表的身份, 在未來一年參加世界同志先生」比賽。
香港同志先生冠軍在勝出的一年中委任為(同志仔)宣傳計畫代表, 籍此在本地宣傳同志在校園被欺凌的關注。
「香港同志先生」作為同志界的一大盛事,有幸地接受《美國有線電視頻道》, 《今日美國》, 《南華早報》, 《香港電台》, 《HK Magazine》, 《Time Out 香港》及其他傳媒訪問報導。「香港同志先生」致力為社群爭取權益,並成為同志社群中一項重要的盛事。
Established in 2009 by MAN Asia Productions, Mr. Gay Hong Kong is the annual search for the gay man who best epitomizes the cosmopolitan territory of Hong Kong. It is much more than a beauty pageant. While physical beauty is part of the consideration, it is a young man's character and personality that make a difference in the selection.
The winner or Mr. Gay Hong Kong assumes ambassadorship of the local gay community for one year, including being the public face of Tongzhi Tsai, the campaign against homophobic bullying in schools.
Mr Gay Hong Kong also has the unique privilege of representing Hong Kong in the prestigious Mr. Gay World pageant.
As a platform for gay rights and issues, Mr. Gay Hong Kong has had the honour of having been covered by CNN, USA Today, the South China Morning Post, RTHK, HK Magazine, Time Out Hong Kong, and various important media outlets. Mr. Gay Hong Kong is committed to gay advocacy and to the advancement of the gay agenda in mainstream conversation.
There's More Than One Way To Be A Man!®
___________________________________________________________
ABOUT MR GAY WORLD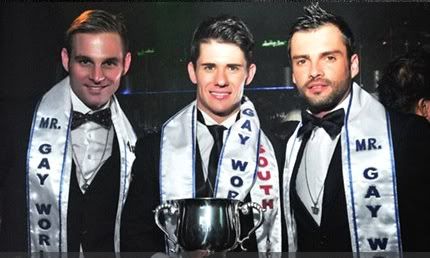 「世界同志先生」選舉設立的目的是選出一個能勇於向世界宣揚平等及人權的同志代表。世界同志先生能在主流和非主流社會中活出同志的真我個性,實是一個典範。
「世界同志先生」選舉評判團會一連四日從一系列的活動中, 選出一位有才華又能代表「世界同志先生」的人向世界宣揚平等的使命。
今年的「世界同志先生」總決賽將於二零一二年在南非首都約翰內斯堡舉行。
The primary purpose of Mr. Gay World is to identify leaders who will take responsibility of being a spokesperson not only in his own community but on a global stage speaking out for equaland human rights. Mr Gay World is a positive role model and will work on humanizing being gay in the media, both queer and mainstream.
The Mr. Gay World competition includes athletic tests and extensive interviews with a panel of judges. Judging points are based on a diverse set of criteria including qualities in charisma, leadership, personality, appearance and communication.
The Grand Finale of Mr. Gay World 2012 will be held in Johannesburg, South Africa.